What about this one?
Solve 

(Yes, I know you can see that the answer is 2, but we're learning to play a game here...  They're going to get a lot harder.)
Your mission:  Get the smelly X alone.


Who needs to get away?  The +5!
What will undo a +5?  -5!
Do it to both sides!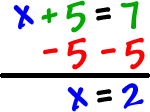 ---
YOUR TURN:
Solve     

---
Here's the first thing we can do:
We can add or subtract
something from both sides!