Let's start with an easy one:
Solve 

We can just look at it and see that  x = 10...
But, what if we didn't see that?  What would we do?
Here's the Algebra trick:
We'll add 3 to both sides!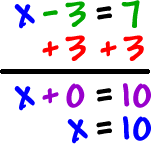 *Remember the see saw?
Whatever we do to one side of the equation,
we have to do to the other side.
Why did we ADD 3?


             To undo this!  + is the opposite of -
The goal is to get the x alone.  Just imagine that Mr. X hasn't showered in a few weeks and everyone wants to get away from him.  It's your job to help.