OK, so WHY does this work?
Let's write the last problem as a fraction:

Can we multiply this fraction by 1 and not change its value?  Yep!
How about if we multiply by a magic 1?

YEP!

So, just moving both decimals to the right

is the same as multiplying by a magic 1!
Here's another one:
Divide 7.5 by .25
Set it up...

Hey, there aren't even any decimals left in this one!
Go for it: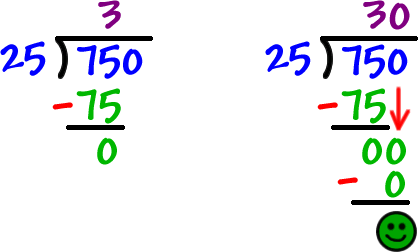 Always remember what division means and think about your answers!
This problem means:
How many .25's are there in 7.5?
There are 30.
Think about it!  Does this answer make sense?