There's one more biggie.
Remember that theorem about real zeros?
An nth degree polynomial has, at most, n real zeros.
Well, dude, now that we have complex zeros, we can say this:
An nth degree polynomial has
EXACTLY  n  ZEROS!*
*This includes real and complex.
So, now, if we have a 3rd degree polynomial...  we WILL get 3 zeros!
Check it out:
Find the zeros of:

then draw a rough sketch of the graph:
What's his basic shape?

Let's find those zeros: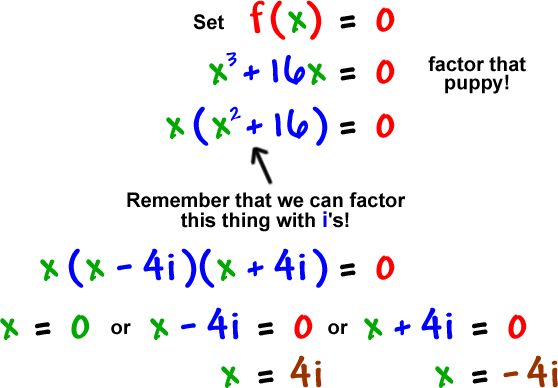 zeros:

The best we can do here is to make our best guess at the graph based on what we have...
| | | |
| --- | --- | --- |
| | or | |
Check it on the graphing calculator!  (You probably won't see any wobble at all.)