So far, we've just been solving inequalities with two parts: a left side and a right side like this

But, sometimes we'll have inequalities with three parts:

Sometimes, these are called compound inequalities.
So, what do we do on these?
Our goal is the same:
On these, we just get him alone in the middle section.  So, just like before, pretend that there are really = signs and go about your business...  We'll just be working all three sections at once.
Let's go:

Get the x alone in the middle...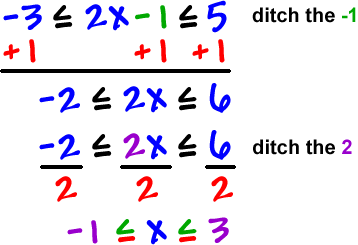 But, what does this mean?
x can be -1... or x can be 3...or x can be a number between -1 and 3... like 0 or 2.315.