Here are some special exponents to know...  What happens when the exponent is 1?



What would this be?

Boy, that just doesn't make sense at all!  But, things like this really do come up in math problems.  So, we make a special rule for it: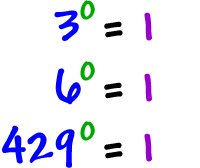 Any number to the zero power is 1!
---
TRY IT:




---