Did I just hear you say, "What the heck is an asymptote and why am I started to get all sweaty and twitchy?"
Relax!
We've got that sentence:
Graphs hug asymptotes.
What does it mean?
Let's check out one of our old friends...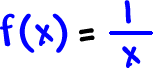 See how the graph is getting closer to the axes?...  But, it will never touch them?

The x and y axes are asymptotes!
Asymptotes are lines (usually invisible) in space that a graph gets closer and closer to but never touches...
OK, so for vertical asymptotes...
Set the denominator = 0 and solve.
This is like finding the bad spots in the domain.  It's where the function cannot exist.