This one isn't so funny.  If we do some thinking, we'd probably be able to figure it out.  Luckily, we'll be able to get a formula for this kind of sequence later.
OK, so what about this sequence?

Can you find the pattern?
Can you find the next term?
This one's not so simple...  There IS a pattern, but it's a bit buried.
Let's list the differences between the terms and see if that helps.

See what's going on?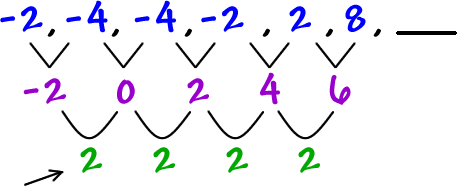 We're adding 2 each time down here, so just continue with this pattern and work your way back up:

We won't be working with these buried guys in later sections, but, they're kind of interesting, so I wanted to show them to you.